Suit Guide - Top Ten Tips For Men
Boys, as you begin to step into manhood you'll begin to realize the importance of owning a suit. And not just ANY suit, but a suit that fits well on your body. With these ten tips you should be able to go out and find the perfect suit for you.
1.
Fabric
- In a perfect world, all our men's suits would be tailor made. And unless you're a trust fund baby or ran into some amazing luck or wealth we have to shop off the rack. Higher quality suits are made from wool!
Stay clear of Polyester (You'll turn into a furnace). Linen wrinkles easily and is horrible for travelling. Silk/Satin stains easily and will rack up your cleaning bill. Microfiber while stain resistant is super cheap.
2.
Fit
- If the above picture wasn't enough, here are some length tips; The jacket should finish at the wrist bone, with around 1/2 inch (12.7mm) of shirt sleeve extending past the jacket sleeve. The length of the suit coat should just cover the seat of the pants. The length of the trousers may be just long enough to form a slight "break" at the shoe, or can be cut fractionally shorter to avoid the break at the shoe, and thus create a slight lengthening effect on the legs. Avoid pant legs that are so long that they bunch or are so short that they expose the socks. Shoulder pads should always end at your shoulders.
3.
Accessories
- You don't want to over accessorize your beautiful suit,if u're already wearing a tie bar and a pocket square, skip the lapel pin. Skip the G-Shocks and other plastic waterproof, mountain climbing watches. Your tie bar should not be wider than your tie. Stick to simple shirts, white, blue, slightly striped shirts and those with small checks or window pane prints are accepted. Your belt and shoes should "go together".
4.
Buttons
- Choose a 1- or 2-button jacket; presently, a 2-button jacket will suffice for most men and situations. 1-button jackets are better suited for men with slimmer physiques. Today, 3-button jackets appear dated. The top button of a two-button suit — or the middle button of a three-button suit — should not fall below your navel.
5.
Vests
- A vest is only important for a formal event, but if worn make sure its cut close to the body and hemmed to the belt line. You'll look slim and modern.
6.
Vents/Slits
- Vents are the flaps of cloth below the waist, at the back. They should cover your entire rear end and they should never be separated unless you're bending or sitting down. Make sure they lay flat against your backside when you're standing straight. A larger individual should choose a jacket with two slits, while a thinner man should opt for a jacket with no slits.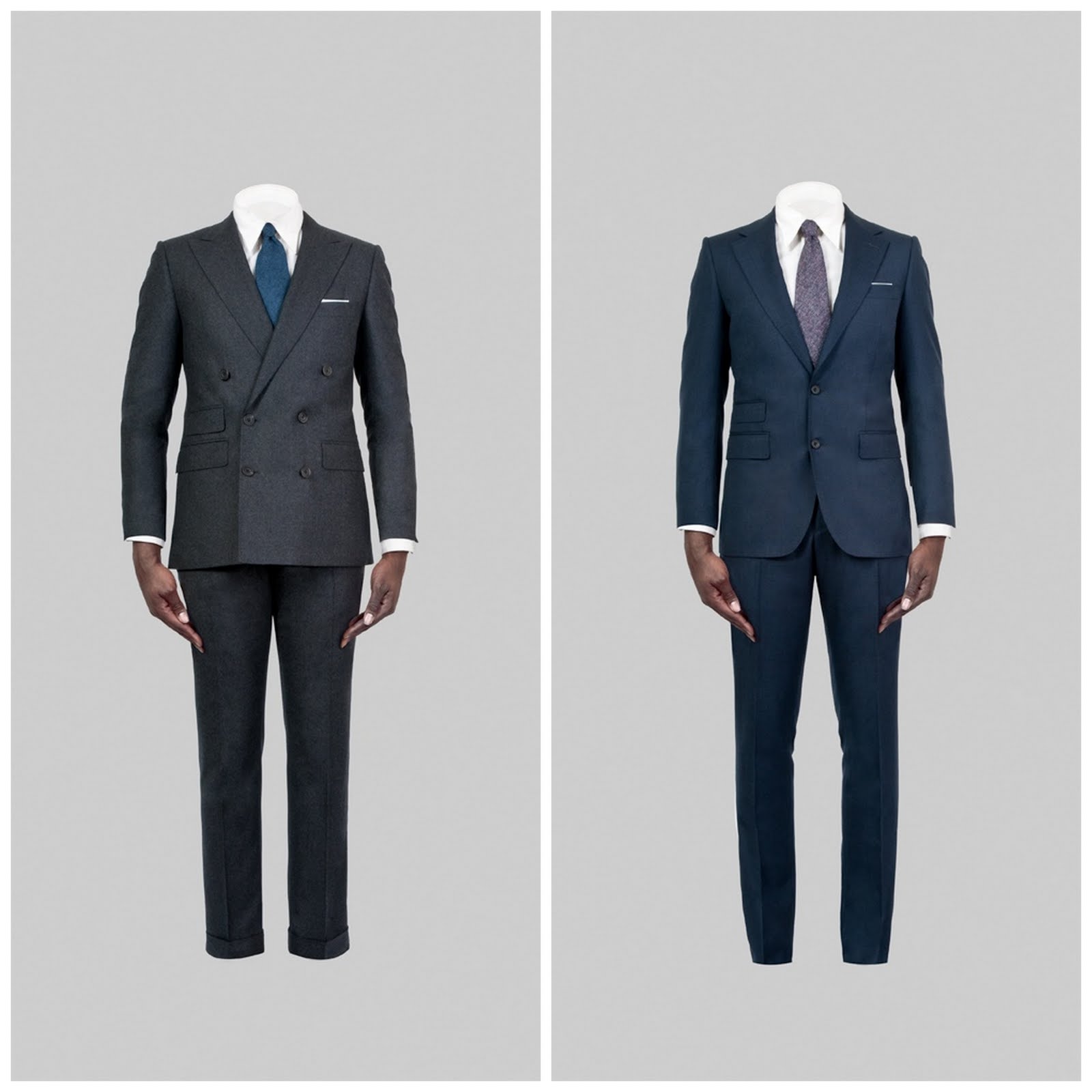 7.
Single vs. Double-Breasted
- You can choose between a single or double-breasted jacket. A double-breasted jacket folds over itself in the front, while a single breasted one doesn't. Double-breasted jackets are generally more formal; however, you will see many menswear designers and retailers pairing double-breasted jackets with a pair of jeans to dress it down.
8. Always unfasten you jacket button when you sit. ZERO exceptions.
9.
Never fasten the bottom button of a double-breasted jacket (unless it has only a single row of buttons).
10.
Your flat hand should slip easily into your suit under the lapels when the top (or middle) button is fastened. If you put a fist in, the suit should pull at the button.
Put on your jacket and stretch your arms in front of you. Make sure you're able to move freely and feel comfortable.

Happy Shopping!
What Suit Tips do you have?